How Visine Drops Contributed to Stacy Hunsucker's Death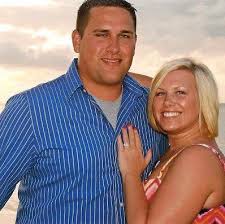 Most people wouldn't think of Visine, a common over-the-counter eye drop product used to treat itchy and dry eyes as a murder weapon, but one Gaston County man awaiting trial is accused of using it as just that.
On September 23, 2018, Stacy Robinson Hunsucker, a 32-year-old Charlotte preschool teacher and mother of two young daughters, passed away suddenly at the home she shared with her husband. Stacy had suffered from heart problems in the past and actually had a pacemaker implanted not long after the birth of the couple's second daughter.
Her husband, 35-year-old Jonathan Lee Hunsucker, refused to authorize an autopsy after her death, attributing his wife's sudden passing to "myocardial infarction" when filing to collect for two of his wife's life insurance policies totaling $250,000.
Soon after her daughter's death, Stacy's mom, Suzie Robinson, grew increasingly suspicious of Jonathan. She suspected he had been cheating on Stacy prior to her death, and couldn't understand why he didn't want an autopsy performed. He seemed to have no concerns regarding Stacy's untimely death. Robinson was also taken aback at how quickly he began spending money once he received the proceeds from the life insurance. In less than six months, he was publicly sharing his new girlfriend with the world.
Robinson's claims attracted the attention of local investigators with the North Carolina Department of Insurance, who opened an insurance fraud investigation. They questioned Jonathan's co-worker at Atrium Health's MedCenter Air, where he had worked as a paramedic for several years. They were all surprised that Jonathan had seemed unaffected when Stacy passed away suddenly. When the investigators learned a private company involved with organ donation had kept a few vials of Stacy's blood, they sprung into action.
When Stacy's blood was tested by a medical examiner, it came back positive for very high levels of tetrahydrozoline, which is one of the active ingredients in Visine. In fact, the levels were between 30-40 times the therapeutic level of tetrahydrozoline. The medical examiner noted that the medicine can have a dramatic effect on the heart and cause stoppage and heart failure in a short amount of time.
When investigators brought Jonathan in for questioning and shared the results of the blood tests, he gave them probable cause that he had poisoned his wife with eyedrops and caused her death. He was arrested and a grand jury indicted him on charges related to first-degree murder, insurance fraud and obtaining property by false pretenses greater than $100,000.
He was released after posting $1.5 million bond and ordered to refrain from spending any more money related to the life insurance payout or assets he bought with the money.
The Robinson family has filed a wrongful death lawsuit against Jonathan. They've also filed a motion to receive custody of Stacy's two daughters with Jonathan, as they were living with Jonathan's sister as of earlier this year. On Feb. 21, 2020, Jonathan's attorney filed a motion asking that the court put a hold on the the wrongful death lawsuit until the criminal matter has been settled.