Becoming the News: The Disappearance of Jodi Huisentruit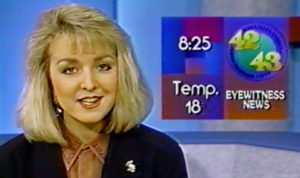 This is a case that drives home the fact that you can be vulnerable anywhere, even in the early hours of the morning when you're doing something as innocent as trying to get to work. This case has always bothered me, because when 27-year-old news anchor Jodi Huisentruit disappeared, she wasn't out partying or returning home from a late night with friends. She had overslept and was in a rush to get to her job at news station KIMT in Mason City, Iowa, where she hosted the early morning show. Jodi was an ambitious reporter who was focused and working hard on advancing her career. Her friends and co-workers described her as vivacious, friendly, motivated and energetic.
On the morning of June 27, 1995, Jodi didn't show up for her 4 a.m. call, and a co-worker phoned her from the station to check on her. According to the co-worker, Jodi was awakened by the phone and said she would "be right there." She only lived a few minutes from that station. But based on the evidence that was found a few hours later by police when Jodi didn't show up for work, she never made it out of the parking lot. Jodi's car was still there with they key bent in the lock on the driver's side door. Tools she needed for work (a blow dryer, jewelry, shoes, etc.) were found scattered the ground. Drag marks near the car suggested a struggle, and that Jodi was most likely ambushed while she tried to get in her car. Neighbors later reported they heard screams in the early hours of the morning but no one called the police at that time. Someone else claimed to have seen a white van in the parking lot with its lights on around that same time.
The "Disappeared" episode on this case provided a lot of interesting information. The really eerie thing? Jodi's employer, KIMT, had to report on their missing anchor, so it hit her co-workers hard. Watching news footage during that time, you can see how shell-shocked they are. Female anchors were also nervous because they were afraid there was a stalker out there who had known what time Jodi left for work each day and would strike again. There was another person of interest brought up during that episode. Jodi had a friend, an older gentleman who had wanted a relationship with her, but she had gently told him she wasn't interested. He had lavished her with attention and gifts and even threw her a birthday party. After her disappearance, he went to the police and told them he was "the last person to see Jodi alive," which was kind of bizarre, because no one knew if Jodi was deceased.
In 2011, a female police officer fired from the Mason City Police Department claimed that three members of the department had been personally involved in Jodi's disappearance and had covered it up. This officer also filed a sexual harassment suit against the department and claimed to have been discriminated against based on her religion. Because she had a contentious relationship with the department, it's hard to know if there is any truth to her claims, but you do have to wonder if she was fired for knowing too much.
There has never been any closure in this case, and Jodi was declared legally dead in 2001.