The Disappearance of Baby DeOrr Kunz
I love the show People Magazine Investigates on the Investigation Discovery channel, and the case that aired this week is a difficult one because a 2-year-old child was involved. There are so many unanswered questions about the case and finger pointing that it makes coming up with theories difficult, especially because you want to be sensitive to the parents who are still looking for answers. On the other hand, there are far too many cases like Susan Smith and Casey Anthony (even though she was acquitted of charges) that prove a parent can indeed know something happened to their child and then lie to investigators about it.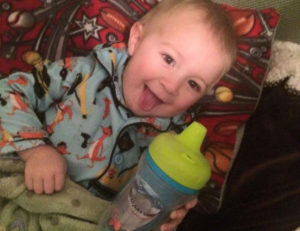 Here is what we know. On July 10, 2015, Jessica Mitchell and Vernal DeOrr Kunz took their 2-year-old son DeOrr on a camping trip with Mitchell's grandfather Robert Walton and a friend of the grandfather, Isaac Reinwand. Then the story gets a little murky. The parents (who were high school sweethearts who had married other people and then divorced and reconnected to have baby DeOrr) said they walked up a trail only a few feet from the campsite. They left DeOrr in the care of the grandfather when they did this. Then Vernal said he saw some minnows in a stream that he thought his son would like to see, and he and Jessica returned to the campsite to get him. The grandfather (who is in poor health and tethered to an oxygen tank) claimed he thought the toddler was with them. From one report I read, the parents were probably gone 20 minutes or so. But that's more than "a few feet away from the campsite." There are also discrepancies on how long they waited before they called 911. I think on the episode Jessica said he had been missing for an hour but I can't be positive on that.
There was a reservoir nearby that was searched but the dive team didn't find anything. Jessica told police they had been at a nearby gas station that morning and she noticed a man looking at DeOrr in a way that made her uncomfortable. Investigators tracked down the man and determined he had nothing to do with the disappearance. The four people at the campsite couldn't seem to get their stories straight, either, they all had different recollections of who had cooked breakfast that morning, how long DeOrr had been missing before they called for help, etc. The parents both ended up failing polygraph tests which didn't help their case. The friend that was with the grandfather had a criminal background (theft, I believe).
I think at first their local community rallied around them, but now that investigators have said none of the four people on the trip can be cleared in the case that support has wavered. Jessica and Vernal are no longer together, and have taken to saying they don't know if the other had anything to do with DeOrr's disappearance. Jessica stated that she feels DeOrr was kidnapped by someone that was in the area on that day. It also came out on the "People Magazine Investigates" episode that Jessica had two other children from a previous marriage but had given up custody of them before she had DeOrr. And the fact remains that no trace of him has ever been found and only four people truly know what happened that day.
It is heartbreaking to see the photos of this adorable little boy and know that something tragic likely happened to him, whether it was an accident or not. If it was an accident, I hope that whoever is responsible does the right thing and comes forward so that the extended family can finally get some answers.