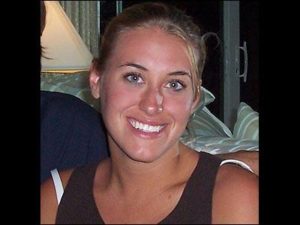 When most people think of Orlando, Fla., they envision theme park resorts, Mickey Mouse, water parks, and a place where people go to seek thrills and adventure. For 24-year-old Jennifer Kesse, Orlando provided a place for her to start off a career as a financial analyst. That's where she was headed on Jan. 24, 2006, when she disappeared. When she didn't show up for work, her employer called her family because it was so unlike her normal behavior. When police and family members searched her condo, they could tell she had showered and gotten ready for work per usual, but there was no sign of her car.
Two days later the car was found in a nearby condominium complex. Video surveillance captured the grainy image of a person exiting her car and walking away on foot shortly after parking (the car was left in the lot on the day Jennifer disappeared). Unfortunately, most of the footage of this person was obscured by a tall, black, wrought-iron fence.
At the time of her disappearance, Jennifer's condominium complex was undergoing a massive renovation, and from what it sounds like, many of the workers on the project were illegal immigrants who didn't speak a lot of English when questioned. Some theorize the person captured on the surveillance image could have been a painter or other contractor based on the white, non-descript clothing. Jennifer had told friends and family members that she felt uncomfortable having so many workers in the complex where she lived alone, especially when they made comments as she walked by.
In subsequent interviews, Jennifer's father Drew shared that he feared she had been kidnapped and kept in one of the unoccupied condo units while community members searched for her. No one interviewed remembered seeing her in the parking lot that morning, leaving her family to think something happened to Jennifer before she even made it out of the breezeway outside her condo.
Elementary-school teacher and Tampa-area resident Shaun Gurd has helped the case receive a resurgence of interest the past year with the podcast, "Unconcluded." Gurd produces episodes of the podcast along with is friend Scott Jamison. (It seems pretty popular with at least 300,000 downloads so far!) I haven't listened to any episodes yet but hope to in the next week to see if I can learn any other details.
Have you listened to the "Unconcluded" podcast? If not, what are your theories on what happened to Jennifer Kesse?