Celebrate the Joy of Reading with Library Card Sign-Up Month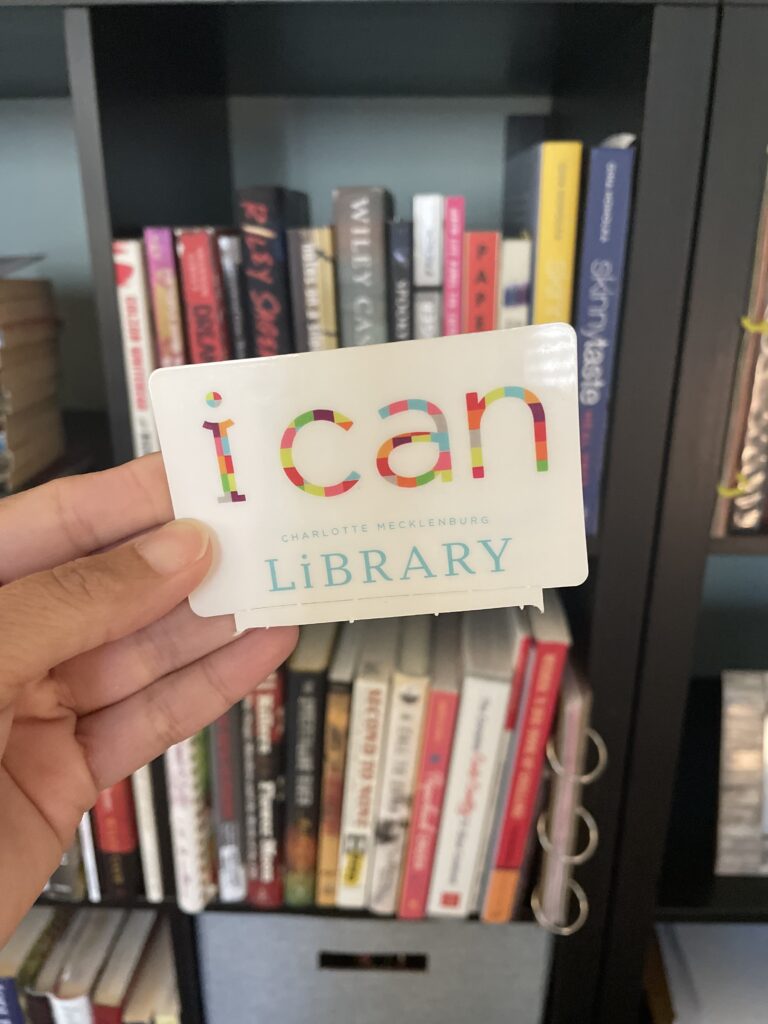 If you enjoy reading, there's no doubt you probably have a library card. From the time both my kids could walk, we spent many hours each week at the library, especially in the summers. One summer my daughter even volunteered as a library intern and loved it. We are fortunate to belong to the Charlotte-Mecklenburg Library, which allows us access to books and other resources at 21 area libraries. Another summer, we challenged ourselves to visit as many libraries as we could and planned excursions around the visits.
A few months ago, I interviewed an intelligent young lady in our community who is on track to read 200 books this year–and she's only a high school senior! She also works in an independent bookstore and regularly takes advantage of the local library system, too
Here's an excerpt from an article that appeared in the August 2021 issue of Lake Norman CURRENTS.
When I saw a post on the Main Street Books Instagram account stating their youngest employee, Hallie Smith, had already read 150 books by the end of May, I was intrigued and knew I had to speak to this voracious reader.
Smith has been involved with Main Street Books for several years in some capacity or other, whether participating in a Youth Advisory Board for the store or volunteering with the Heck YA! Book Festival. A few years ago, she took the initiative to e-mail MSB owner Adah Fitzgerald to inquire about a job. About a year later, when bookseller position became available, Smith was offered the position. She says it was "one of the happiest e-mails I've ever gotten."
A rising senior at Community School of Davidson, Smith jokes that she may have gone overboard buying books when she first started. But eventually, she became more conscious about not spending her entire paycheck in the store, stating that "working with all of these really intelligent women has made me really think about which books I want to invest in."
Some of her favorite genres to read are magical realism and historical fiction. "Magical realism takes the world around you and tweaks a few things," she says. "It's the world as you know it, but slightly different." She points to "The Ocean at the End of the Lane" by Neil Gaiman as a great example. "Reading lets me explore all the boundaries of creativity," she says.
When I spoke to Smith at press time, she was reading her 177th book of the year, meaning she'll likely read at least 200 books in the current calendar year. In 2020, at the recommendation of her mom, she began writing down the titles of all the books she has read in a notebook, along with notes about what she did or didn't like about the stories.
One might wonder how a person can read so many books in one year (Smith also competes in cross country and soccer for the school, works part-time, enjoys creative writing, and at the time of our interview, was attending a camp at UNC-Wilmington for coastal engineering).
"I always, always have a book in my hand," she says. "I don't understand when people say they don't have time to read. Books are the cornerstone of society." She has also perfected the art of reading while on car rides and considers reading to be a form of stress relief. And while she loves the feel of a book in her hand, she also listens to audiobooks and reads on her Kindle.
If you find yourself in Main Street Books looking for something good to read, you can always ask for Hallie. She'll make sure you don't leave empty handed!
Do you have a library card? September is #LibraryCardSignupMonth so get one today! Check out your library's website to learn how you can access movies, eBook's, video games and much more!