Book Review: Ashes in the Ocean by Sebastian Slovin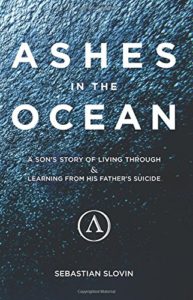 Today I'm hosting author Sebastian Slovin in support of his touching memoir, Ashes in the Ocean: A Son's Story of Living Through and Learning From His Father's Suicide, during his blog tour with WOW! Women on Writing.
Here's what you need to know about the book:
Vernon Slovin was a legend. He was one of the best swimmers in his home country of South Africa, and for a time in the world. He prided himself on being the best. The best in sports, business, and life. He had it all, a big home, athletic prestige, fancy clothes and cars, and a beautiful wife and family. Everything was going his way until it all came tumbling down. He lost everything, including his own life. In the wake of his suicide he left his wife and two young children.
In this riveting memoir, Vernon's son, Sebastian Slovin chronicles his experience of living in the shadow of a suicide, and his journey out of the darkness and into the light. Slovin shares his quest to uncover why his father took his own life. A pilgrimage that led him around the world and eventually back to himself.
Ashes in the Ocean is a powerful story about facing one's fears and choosing a different path.
Paperback: 222 pages
Genre: Memoir
Publisher: Nature Unplugged (March 2018)
ISBN-10: 978-0-692-05119-1
ISBN-13: 978-0692051191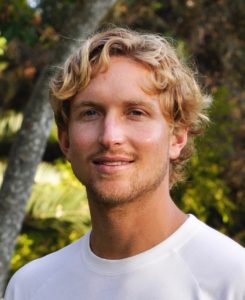 About the Author:
Since he can remember, nature has been a central part of Sebastian's life. He was fortunate to grow up in the beach community of La Jolla, California, and spent his childhood mixing it up in the ocean. As a young boy, he lost his father to suicide, which would later deeply inspire his path in life. As a young adult, he had the opportunity to travel extensively and experience many of the world's great surf spots as a professional bodyboarder. Through his travel, Sebastian developed a deep love and appreciation for our natural world, and at the same time was drawn to the practice of yoga.
His love for yoga led him to study at Prana Yoga Center in La Jolla, California, and his passion for nature eventually led him to pursue a BA in Environment and Natural Resource Conservation at San Diego State University. He also holds an MA in Leadership Studies from the University of San Diego.
He lives with his wife Sonya in Encinitas, California. He and Sonya have a business called Nature Unplugged, which focuses on cultivating wellness through healthier relationships with technology and a deeper connection to nature. When he is not writing or working on Nature Unplugged, Sebastian enjoys swimming, bodysurfing, surfing, and stand-up paddling (pretty much all things) in the wild Pacific Ocean. Find Sebastian Online:
Website: www.sebastianslovin.com
Amazon Author Profile:  https://www.amazon.com/Sebastian-Slovin/e/B078XN8XZL
Facebook: https://www.facebook.com/SebastianSlovinAuthor/
Twitter: https://twitter.com/sebastianslovin
Review:
From the opening pages of Ashes in the Ocean, I was pulled into Sebastian Slovin's personal and heartfelt memoir. My heart raced as I read through the description of a popular annual swimming race in California and how Vernon Slovin would deliberately enter the heat of the race with the younger competitors just to challenge himself. I could easily picture his beautiful young family cheering him on from the cliffs above. The scene is the perfect way to introduce the determined, physically fit man constantly seeking perfection and the acknowledgement that he was the best at anything he set his mind to.
There are some people who are born to be one with the water, and Vernon Slovin was one of them. He passed this legacy down to his son, Sebastian. The description of the ocean waves and pristine beaches in picturesque La Jolla, California throughout the book made me want to transport myself there—as did the later chapters featuring beaches in Australia and South Africa.
Because his father's suicide occurred when he was only six years old, it was many years before Sebastian had the context in which to explore the dynamics in his father's personality that would lead to such a catastrophic end. For years he and his mother and younger sister struggled to pick up the pieces, to survive without the sheltered and prosperous world Vernon Slovin had tried to insulate them in.
Although he was young when his father took his own life while staying with family in Australia, Sebastian grew up hesitant to discuss "the elephant in the room" with his mother for fear of opening up old wounds. He also feared, deep down, that because of his genetics and history of his father's mental illness he too would have no choice but to succumb to a suicidal end.
Once in high school, though, Sebastian continued to cycle through the emotions many deal with after losing a loved one to suicide—confusion, guilt, and anger. To help process his lingering questions, Sebastian embarked on personal research project in the hopes of filling in the unanswered questions he had about his father's life and death. With much of the dogged determination his own father had possessed, he met with his father's former swim teammates, friends, and business partners. With each e-mail, conversation, and long-distance correspondence, he learned more and more about the competitive swimmer who was recruited from South Africa to compete at the college level in the United States.
Vernon took the same skills and drive that made him successful in swimming and translated that to his business life. During one of Sebastian's interviews with one of his father's friends, he started to understand that his father had an almost unhealthy obsession with "winning" and achieving his goals. He would shut out everything else while he worked to achieve them. Because of this obsession, he didn't know what to do when he failed, which he ended up doing in his career as a stockbroker.
It's clear both the legacy of his father and the shadow of his death affected Sebastian in more ways than one. He shared the same passion for water, and competed for many years in professional bodyboarding at beaches all over the world. When he discovered yoga, he became convinced he had to be the very best teacher and took all the certifications necessary to become a master instructor. It was only while sidelined after a serious hip surgery (where he re-injured himself after trying to get back in shape too quickly) that he realized he was following directly in his father's footsteps once again.
Sebastian's memoir is a thoughtful exploration of the deep ties we have to family and how we must shape our own destinies, regardless of what we think are the legacies left behind for us.