A Weekend Itinerary for Charleston, S.C.
My husband Daniel and I celebrated our 20th wedding anniversary last month. Originally, we had big plans to finally get away somewhere tropical for this milestone and had settled on St. Lucia. Then COVID-19 hit, the resort shut down and we were unable get on an airplane this summer. We put off the trip and decided to do something a little more local where we could still enjoy some quality alone time. In years past, we've headed to the North Carolina mountains because Asheville holds a special place in our hearts, but this time we opted to head south to Charleston, S.C.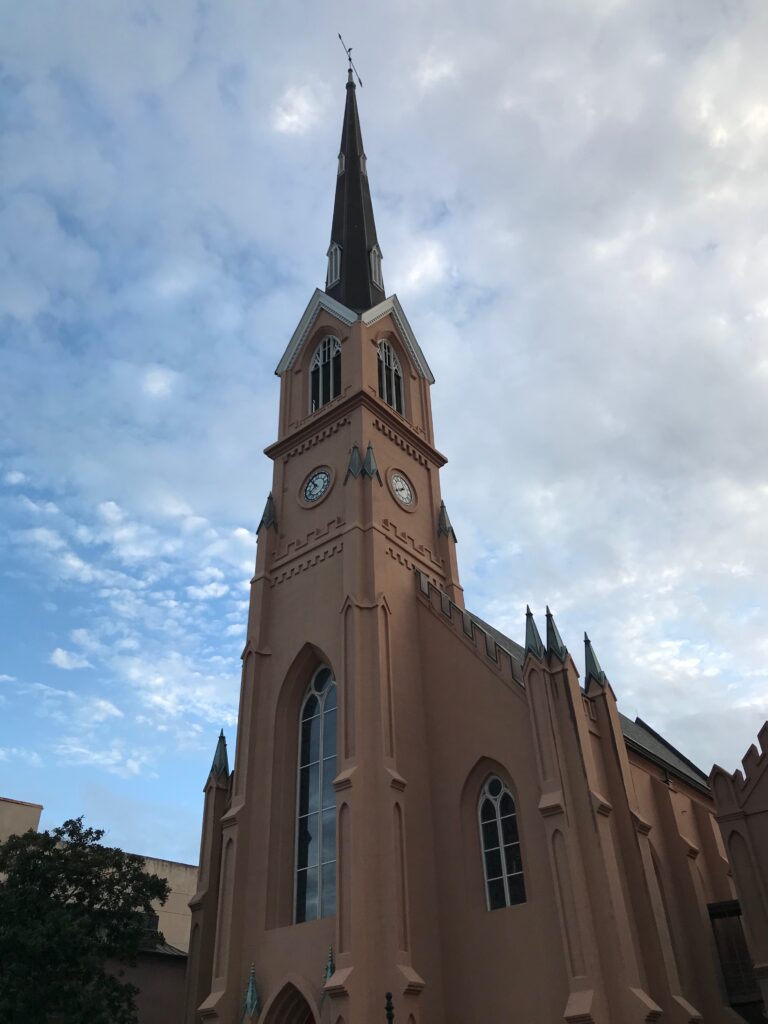 We've been to the city a handful of times over the years, but we normally stay at one of the local beaches like Isle of Palms and drive in for dining and shopping. This time, we chose to stay right in the heart of Charleston at The Elliot House Inn. The inn was once a private residence that now operates as a boutique hotel offering a charming cobblestone courtyard perfect for relaxing and 26 different guest rooms.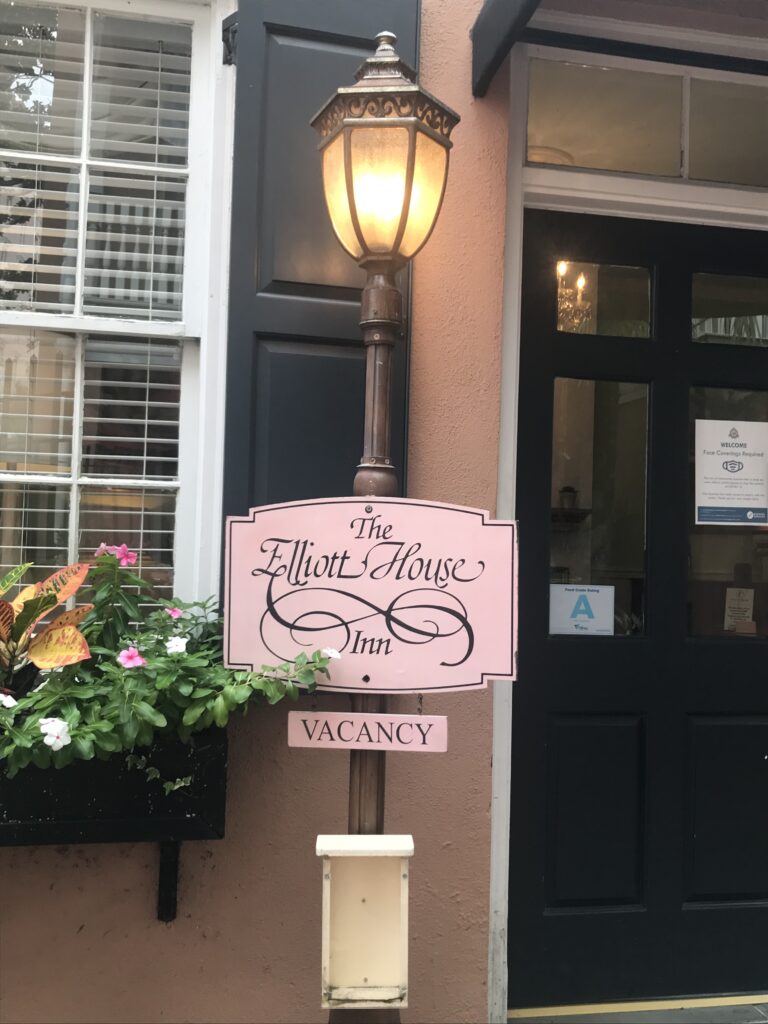 Because of the pandemic, we received a reduced rate for our room because the inn isn't serving a continental breakfast at this time, but we were able to enjoy coffee on the patio each morning. What we loved the most about staying at the inn was the close proximity to almost everything we wanted to get to. We parked our car in the parking deck conveniently located across the street from the inn and only used it once during our three-day stay. It was less than a half a mile to get to the famous waterfront park. We were also close to shopping and restaurants on King Street and the Historic Charleston City Market was about a 10-minute walk.
Eating Our Way Through the City
We knew we needed to make reservations for places we wanted to eat ahead of time because the pandemic has placed restrictions on how many diners restaurants can accommodate. I reached out to a friend who often goes on girls' weekends to the city for a few recommendations. Our first night, we booked an early dinner at Indaco, where we sipped hand-crafted cocktails and nibbled on focaccia with pepperoni butter. For dinner, I sampled the spaghetti with cherry tomatoes, Sicilian pesto and Marcorona almond basil. I'm not exaggerating when I say this was the freshest and most flavorful homemade pasta I've ever tasted and I'll be dreaming about it for months to come. After dinner we explored King Street and made note of all the retail spaces and unique boutiques that can be found there.
The next morning, we headed out in search of brunch. While I had wanted to try out Miller's All Day on King Street (next time) we headed one block away for Toast! on Meeting Street instead. Because I'm an egg person, I had the House Specialty Omelet, which was an open-faced omelet with grilled zucchini, mushrooms, and pepper jack cheese. I selected grits and a biscuit to go with it, and believe me when I say the biscuit was ginormous! Southerners don't play around when it comes to biscuits. Daniel and I both had to return to the inn to work on a few things for our jobs, and the timing couldn't have been better because that's when a torrential downpour passed through. After about an hour and a half, the rain had stopped and we attempted to walk off our food by going into some of the shops on King Street we had missed the evening before and taking a first pass through the market.
The Oldest Continuous Restaurant in Charleston and the State of South Carolina
Late in the afternoon we stopped in at Henry's, which is conveniently located on North Market Street. It has a great atmosphere, having been open in Charleston since 1932 with a reputation for serving up live music in the evenings. I had been on the rooftop bar before on a previous visit, but this time we sat at the bar downstairs and ordered lunch and drinks. I'm a sucker for chicken salad and thoroughly enjoyed my Carolina Chicken Salad Sandwich, which was served on a buttered croissant with lettuce, tomato and mayonnaise. (We returned to Henry's the next evening for happy hour and were delighted to stumble upon a charming whiskey bar tucked away upstairs).
Once we had finished there, we took a long walk on the waterfront park and down to The Battery, which is a landmark defensive seawall named for a civil-war coastal defense artillery battery. It is bordered by the Ashley and Cooper Rivers and forms a harbor along the waterfront. There are so many stately antebellum homes to check out along this walk.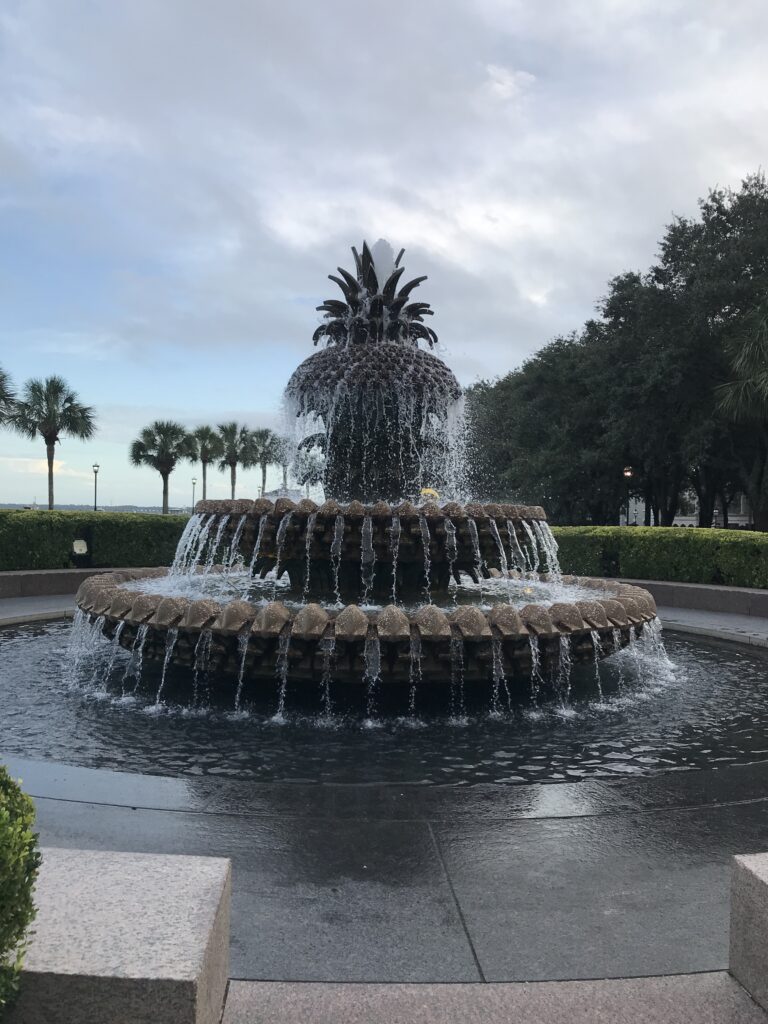 On our way back to the inn I popped into the Buxton Books shop on King Street because I wanted to check out a few of their books on haunted places in the city.
We had a late dinner planned that day and made a reservation at 82 Queen, a restaurant specializing in lowcountry cuisine, located right next to our inn. The Courtyard Cooler cocktails, grilled filet mignon and marinated shrimp did not disappoint either, and they were served with mashed potatoes, roasted asparagus, portabella fries and a demi glace. We chose to sit outside in the courtyard but a light drizzle right after our food arrived drove us into an upstairs dining room, which was quaint and just as nice.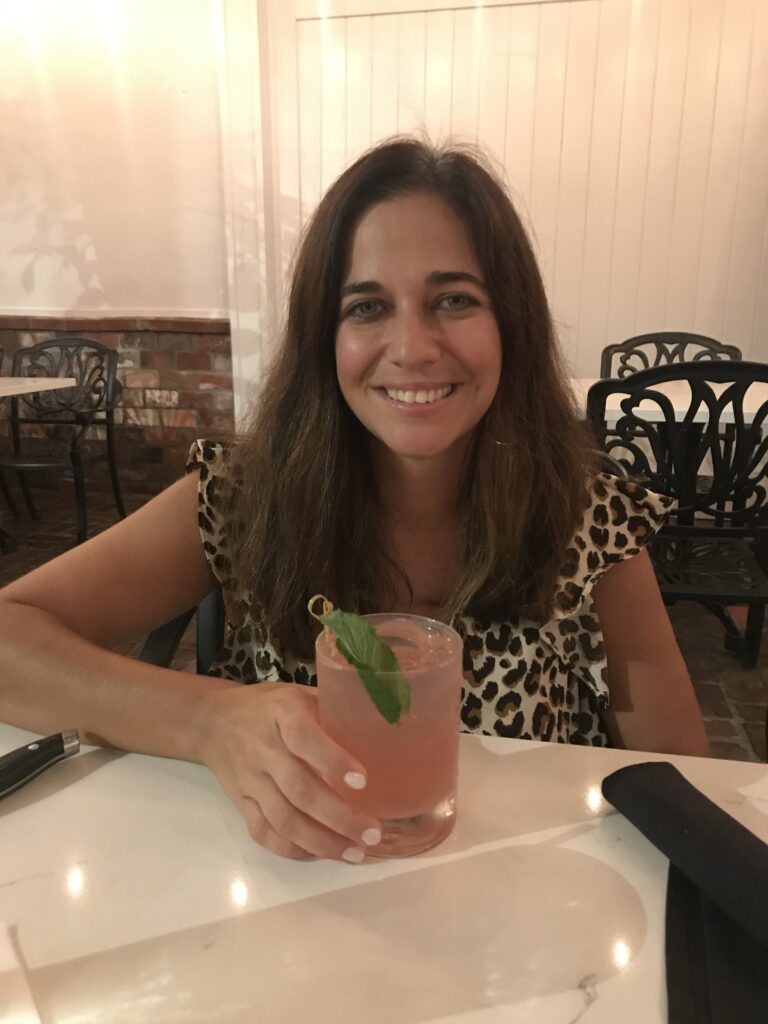 Sullivan's Island
The next day we decided to make a trip to one of the nearby beaches. Sullivan's Island is located just over the Cooper River Bridge and about six or seven miles from the center of Charleston. We had skipped breakfast and were hungry for food once we got there, and somehow we managed to find a place to park and get right into a local tavern with no wait. Sullivan's Island doesn't normally have a lot of public parking options so we were pleasantly surprised. I hadn't known that famed author Edgar Allan Poe had been stationed on the island at Fort Moulrie back in 1827, and that his time on the island possibly inspired his short story, "The Gold Bug." Poe's Tavern is decked out in Poe-inspired décor and features menu items with names like the Annabel Lee and Tell-Tale Heart burgers. The tavern only had outside seating available so we sat on the tented patio and I selected the Amontillado burger with guacamole, jalepeno jack cheese, pico de gallo and chipotle sour cream. After the large but yummy lunch, we walked a few blocks away with our beach chairs to spend some time on the sand. The beach was uncrowded and beautiful, and it was nice to just spend time relaxing and catching up on reading. I spent some time checking out the book Charleston's Historic Cemeteries I picked up at Buxton's Books and was pretty surprised to learn that much of the development in the city was actually built on top of graveyards. As the book states, "Almost all of the public burial grounds from the 18th and 19th centuries were sold or disposed of by the city, in violation of a rarely enforced state law (SC Code of Laws, Section 16-17-600). In addition, because all property owners, even of cemeteries, must pay taxes or lose their property, the city seized private cemeteries with unpaid taxes and sold the land for development. Subsequent landowners built residences, stores, schools, and other structures over the burials, usually without removing the remains."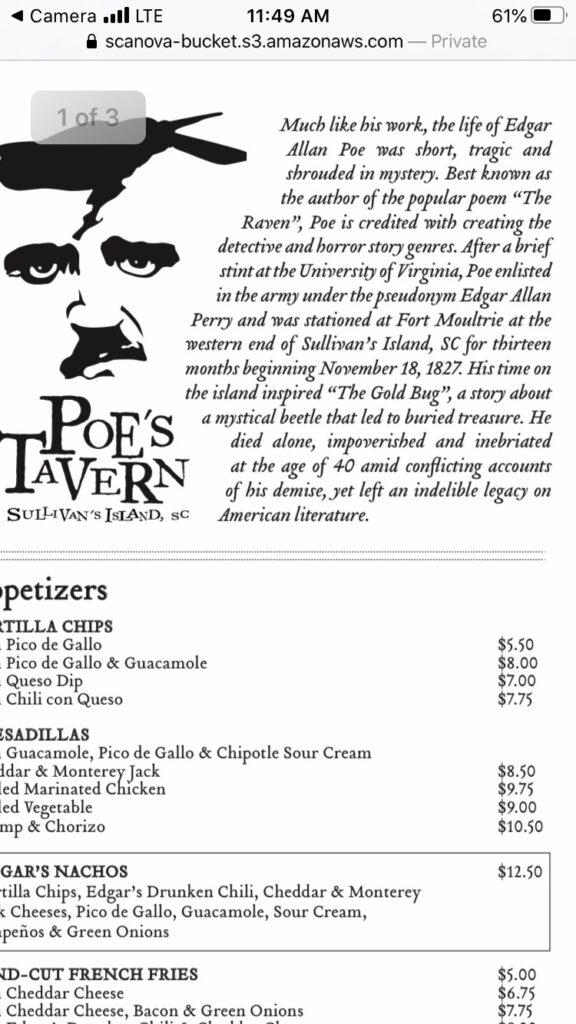 A Ghost Tour and a Spooky Photo
That night, we delved further into the history of the city's graveyards and cemeteries with The Charleston Ghost and Graveyard Tour with Bulldog Tours. Our guide did a great job taking us through a few of the different historic cemeteries (even though a very noisy helicopter was circling overhead for most of it, which was a little distracting) and sharing stories of local legends. I did take one interesting photo of a building adjacent to the Circular Congregational Churchyard on Meeting Street. See if you can spot what I'm talking about in the window that is glowing with a red backlight. After the tour, we didn't have any dinner reservations so we ordered a pizza from a local restaurant and took it back to the inn.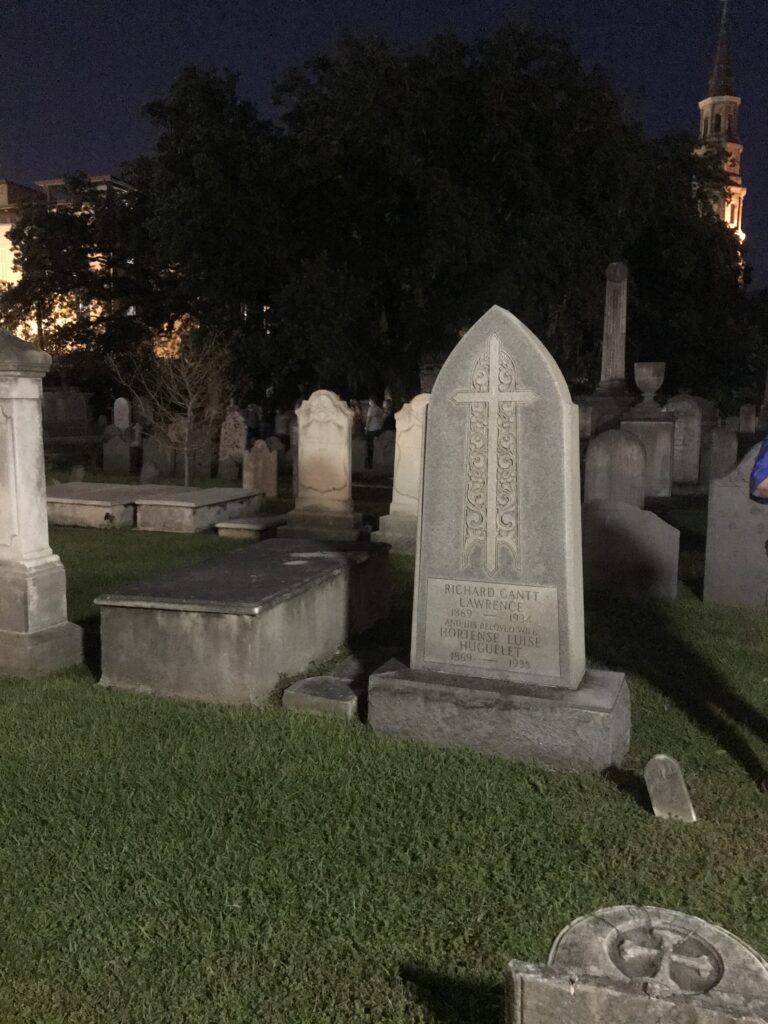 The next morning was a travel day, but I did want to head back to the market to try Callie's Hot Little Biscuit, which are made to order. It was so fluffy and decadent my stomach growls thinking of it. Mine had roasted tomatoes, arugula and an aioli mayonnaise. I've heard that there's a location near me in Charlotte so I may have to check that out soon to get my fix.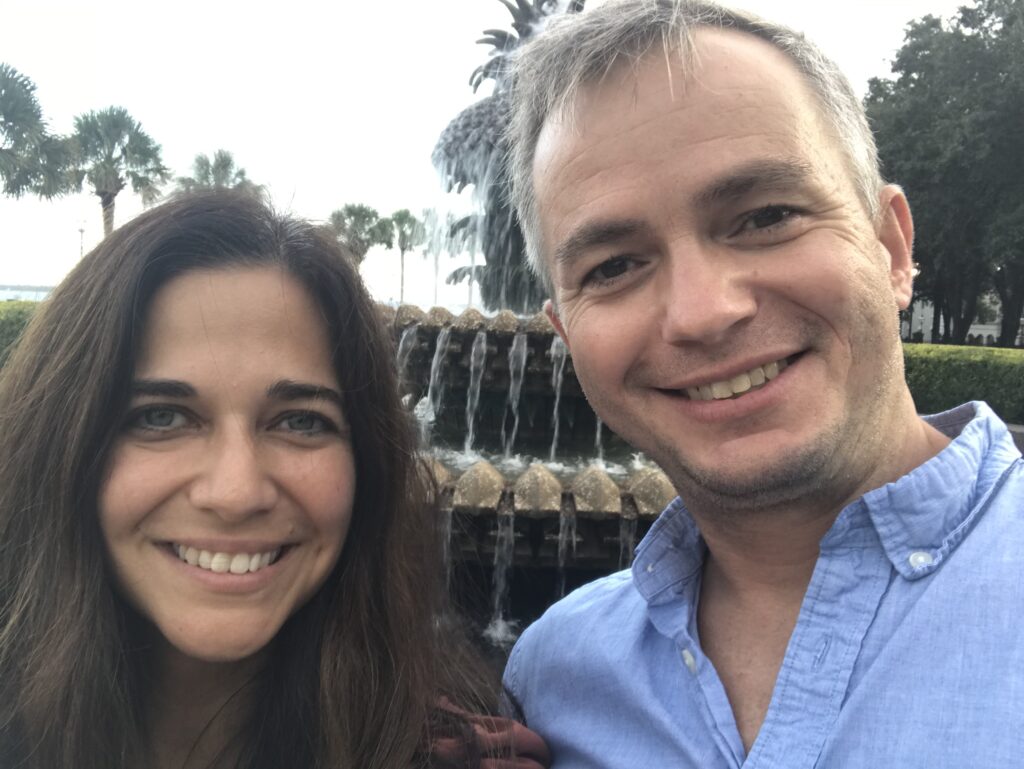 And that completes a very comprehensive look at our recent trip to Charleston, S.C. I feel like I was able to get a better handle on the geography of the city this time and have been turned onto which restaurants I want to try out next time I visit. And yes, there will be a next time very soon, as Charleston is only about a 3.5-hour drive from Charlotte.