Who Was "Mostly Harmless?"
On July 23, 2018, two hikers came across a small, yellow tent at a place called Nobles Camp in the Big Cypress Yellow Preserve in south Florida. When they saw a lone pair of boots outside the tent, coupled with a decaying smell, they felt something was off. Peeking in through the wind screen they discovered an emaciated and lifeless body staring up at them.
The mystery of who this lone hiker was is enduring and frustrating for both the investigators with the Collier County Sheriff's Office and internet sleuths. Plenty of people encountered the hiker, who began his trek at a state park just north of New York City. He traveled on The Appalachian Trail through Pennsylvania and New York City. He carried a gigantic backpack and notebook where he jotted down notes about an online programming game called Screeps. He told people he met along the way that he was taking a digital detox from life and his job in the tech industry. He went by the names "Denim" and then later, "Mostly Harmless," because that's what he considered himself to be. He had also used the alias "Ben Bilemy" at times.
"Mostly Harmless" continued on through Virginia and northern Georgia, where he stopped in a store one day in December 2017 for supplies and began chatting with an employee. He mentioned wanting to keep hiking down to the Florida Keys, and when the employee, Matt Mason, told him there was an app with the route he could download to his phone, "Mostly Harmless" shared that he was traveling without a phone. Mason printed out a 60-page route for him to follow and snapped a photograph of the hiker. "Mostly Harmless" met various people along the way, always friendly, even if he had a rugged and lonely look about him. It was hard to tell his age because although his eyes seemed young, his scraggly black beard was threaded through with streaks of grey.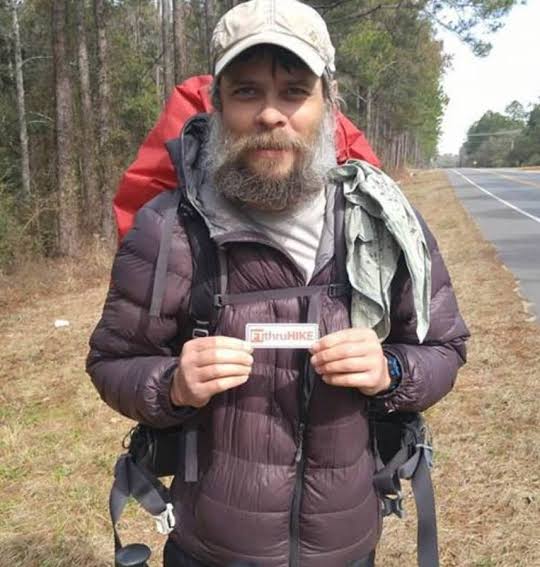 By eyewitness reports, "Mostly Harmless" had made it to Florida by late January 2018. When the hikers found his body in July, he had more than $3,500 cash in his tent, his hiking gear, two notebooks, but nothing that would point to his identity. At the time of his death, the medical examiner approximated he was between 35-50 years old, had blue-grey eyes, stood five feet eight inches tall, and weighed only 83 pounds. The cause of death was listed as undetermined, but investigators believe he died as a result of malnutrition, which was puzzling because he had the resources to purchase food and other supplies.
Investigators have not been able to find any leads that this man has been reported missing. Despite extensive media coverage and the sharing of this story on social media, "Mostly Harmless" remains unidentified. The Collier County Sheriff's Department recently partnered with a private DNA lab in Texas in an effort to create a family tree using a public database and genetic material from the unidentified man's body. Results from that partnership are still pending.
The Collier County Sheriff's Department also featured this case on their podcast, Sworn Statement. Anyone with information about the hiker is asked to call the non-emergency line of the Sheriff's Office at 239-252-9300.
Do you know who this man is?