Who Was in the Polaroid? The Case of Tara Calico
Sometime last year I came across a video on the case of Tara Calico, who vanished from her hometown in Belen, New Mexico after heading out on her daily 34-mile bike ride on her mother's Huffy (Tara's bike had a flat tire and needed to be repaired). The year was 1988 and Tara was 19 years old. Her mother knew she wouldn't be gone too long because she had an afternoon tennis date with her boyfriend.
Witnesses saw a white pick-up truck following closely behind her as she took off, and although she had only planned on taking a short ride, she never came home. After the initial 24-hour waiting period, police traced her route and found her Boston cassette tape lying by the side of the road about three miles from her home. Tara was described as outgoing, studious, and hard-working. She was attending a local  college and working part-time when she vanished, so her family believed immediately that she wouldn't have left on her own.
Some time later a Walkman believed to have belonged to Tara was discovered about 19 miles away at a local campground, along with what looked to be bike tracks or scuffle marks.
About nine months after Tara vanished, a woman came across a Polaroid photo in the parking lot of a grocery store in Port St. Joe, Fla. A white cargo van had been previously parked in the spot where the photo was found. The photo showed a young woman and an even younger boy both bound and gagged on a bed with some striped sheets.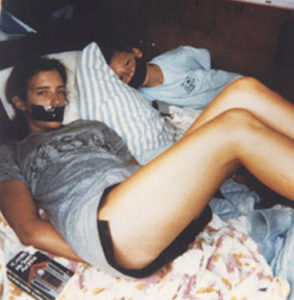 The picture appeared to have been taken in the back of a white Toyota cargo van with no windows. When Tara's mother saw the picture, she insisted the girl, who had a V.C. Andrews novel placed beside her, was Tara. Andrews was Tara's favorite author. Other people speculated the boy with Tara was Michael Henley, a nine-year-old boy who had gone missing in the New Mexico Zuni mountains in 1988, but his remains were later found near the area where he went missing two years later.
The case has never been solved, but with the renewed interest of the former sheriff, Rene Rivera, and an old classmate of Tara's, Melinda Esquibel, closure could be on the horizon. There are rumors in the town of Belen that  two teenage boys were possibly involved in the abduction and subsequent murder of Tara, and that parents of the boys helped cover it up.  When Esquibel began working on  documentary of the case, the sheriff's office in Valencia County gave her access to what little files existed on the case. What she found was in shambles and it was evident files had gone missing over the years. She began her own investigation that has been turned into a podcast, Vanished: The Tara Calico Investigation. I just started listening to the podcast and am curious to see what unfolds.
A lot of the fiction I write is inspired by true crime stories, and the Tara Calico case is no different. After hearing the initial story, I envisioned a young woman and boy held in captivity together for several years, and what would happen when they finally got the courage to escape. I wrote a short story called "The Polaroid," and recently found out it placed first in the Suspense/Thriller Category of the Writer's Digest Popular Fiction Awards.