The Murder of Sherry Hart in North Carolina
This case was featured on "Unsolved Mysteries" on December 1, 1995. Hart was a recently divorced 24-year-old young mother who had moved back to live with her parents in West Jefferson, N.C. when she went missing after an evening out in January of 1984. For months her family wondered what had happened to her, and then her body was found on December 10, 1984, at the base of a cliff near an area called Jumpinoff Rock.
Investigators received some tips about Hart's murder after a $5,000 reward was publicized. They discovered two local men named Richard Bare and Jeffrey Burgess had met up with Hart the night she went missing, and talked her into cruising around town with them. At some point during the drive, Bare made a sexual advance towards Hart that she rebuffed. Burgess told investigators that Bare struck Hart on the back of the head with a pistol and had Burgess drive them to the nearby Jumpinoff Rock.
Bare then dragged Hart out of the car and pushed her off the cliff, where her body was found all those months later. Burgess said Bare threatened to kill him and his family if he told anyone. Both men were arrested, but before they could stand trial, Bare simply walked out of the Wilkes County Jail when the jailer wasn't paying attention. That was on July 17, 1985.
Because Burgess was supposed to testify against Bare at the trial, he was released from jail and never served time for his role in Hart's murder. He passed away in 2012 after serving time in and out of jail for various drug charges.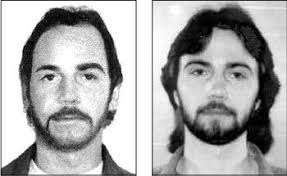 To this day, Richard Bare has never been captured.
No one has ever served time for Sherry Hart's murder. The most fascinating thing about this case are the rumors that have persisted over the years that Bare has frequented his hometown, even dressing up in disguise.
According to an article published in the Wilkes Journal Patriot, investigators have received tips that Richard had dyed his hair blonde or red, sometimes dresses as a woman, and may have a tattoo of a panther on his right forearm. At one point they suspected a man living in Caldwell County of being Bare, but could never substantiate that. They've gone so far as to stake out funerals of Bare's family members to see if he shows up in disguise, but have uncovered nothing.
Richard Lynn Bare is still considered wanted by the F.B.I., and anyone with information on his whereabouts are asked to contact their local FBI Office.
This case appeared on Episode 12 of the Missing in the Carolinas podcast, N.C. Cases Featured on "Unsolved Mysteries."