The Disappearance of Mary Shotwell Little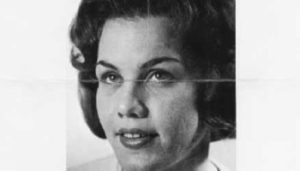 This case caught my eye in a recent round-up article of mysterious disappearances, mainly because it involves my home state of North Carolina, and the numerous theories that swirl around it.
Mary Shotwell Little was a young 25-year-old newlywed and secretary at a bank in Atlanta, GA. On Oct. 14, 1965, the night of her disappearance, her husband Roy Little was out of town for work training but planning to return the next day. Mary had plans to throw him a welcome-back party, and after work, she shopped for groceries and arranged to meet a co-worker for dinner at the Piccadilly Cafeteria at the Lenox Square Shopping Center. The next day, Mary didn't show up for work and never called in, which was unusual for her. Her boss spoke with the colleague she had dinner with the night before and found out Mary left the cafeteria around 8 p.m. in good spirits. Security guards couldn't find Mary's car, a 1965 Mercury Comet, at first but then located it in the parking lot of the shopping center.
There was something unusual about the car, though. It was covered in a layer of red dust, as if it had been driven on a dirt road. Police found bags of groceries were found in the backseat. A pile of folded undergarments, speckled with blood, lay between the bucket seats, and a single nylon with one cut in it and a bra were on the floor. Mary's coat, purse, keys, jewelry and dress were never found.
On the day following her disappearance, Mary's credit card was used at a gas station in Charlotte, NC, which also happened to be her hometown, and then 12 hours later in Raleigh, NC. Investigators thought that was odd because the two cities were only about 3- 3 1/2 hours apart–so why would anyone wait so long in between credit card purchases? They were both signed "Mrs. Roy H. Little Jr." Attendants at both gas stations told investigators they had seen a woman who appeared to have a head injury with blood on her head and legs with two unidentified men, but she kept her face hidden.
There are many theories about what happened to Mary, although none have ever been proven. Of course suspicion fell first on her husband, Roy, as it often does when a woman vanishes. He reportedly came across as cold and unconcerned when she went missing and refused to take a lie detector test on many occasions. But although many of her friends didn't care for him, she seemed to be happy in the marriage and he had no motive to bring her harm.
There is also speculation that Mary staged her own disappearance, due to the carefully staged items (and small amount of blood smears) in her car, but that hasn't been proven, either. A woman did report that a man tried to accost her in the Lenox Square Shopping Center just a few hours before Mary would have been heading to her own car after dinner.
Co-workers told investigators Mary had taken several calls at work that seemed to be from an old suitor, whom she told she was married and no longer available. She also received a bouquet of flowers from a secret admirer that so that was also a little unsettling. Had someone been stalking her?
There were also reports of a sex scandal at Mary's office that she knew about, and an F.B.I. agent had been sent in to investigate it. But although Mary had knowledge of it, investigators couldn't tie those claims to her disappearance. It is a strange coincidence though that 18 months after Mary went missing, a female co-worker named Dianne Shields was found murdered, sexually assaulted and left in the trunk of her car. No link could ever be found between the two cases, though.
According to this recent article in The Charlotte Observer, a retired area detective has been spending time trying chase down a story that an inmate told two F.B.I. agents in 1966. He claimed he had been acquainted with two men who told him they had abducted a woman and killed her at a house in Mount Holly, NC. And . . . they were each paid $5,000 to do so.
And the mystery deepens, indeed.