Book Review: Skinnytaste Fast and Slow
I don't know about you, but I discover many great recipes on social media channels. Someone will share a recipe or I'll see one of those cooking videos that makes preparing a dish look so easy that I'll seek out the blog or Facebook page it originated from. That's how I found Gina Homolka and Skinnytaste.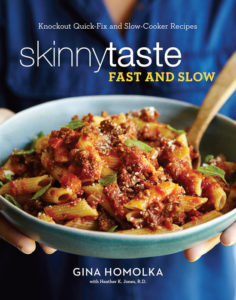 I can't remember which recipe of hers I tried first, but I love how she uses real food ingredients in her dishes and includes the Weight Watchers points for anyone who may be on the program. She also has many slow cooker offerings. I've saved many of her recipes and cooking videos on Facebook and Instagram, so when I came across the Skinnytaste Fast and Slow cookbook a few months ago while browsing in our local independent bookstore I made an impulse buy. It didn't disappoint. Skinnytaste Fast and Slow: Knockout Quick-Fix and Slow Cooker Recipes includes 140 dishes that can be made in a slow cooker, in the oven or on the stovetop.
At the beginning of the book, Homolka explains her cooking philosophy–she loves eating decadent and savory foods but doesn't want to sabotage the results of her fitness routine. That's what led her to experiment with different dishes that could be full of flavor but still healthy. She also gives tips on how to successfully get dinner on the table even in the midst of a hectic schedule. For example, stock your pantry with seasonings and spices, baking products, canned and jarred goods, prep for the week with meal planning (she also sells her own meal planner to help with this), how to freeze certain dishes, etc. She also provides advice on how to prepare delicious meals quickly and slow cooker secrets. Plus, there's a handy chart with a month full of meals to get you started.
I'm still working my way through the cookbook but so far we've loved pretty much everything we've tried and I haven't even attempted any of the breakfast or dessert recipes yet!
Some personal favorites out of Skinnytaste Fast and Slow:
Slow Cooker Beef Ragu Pappardelle (we served this to some dinner guests a few weeks ago and they loved it)
Chicken and Zucchini Noodles with Black Bean Sauce
Zesty Lime Shrimp and Avocado Salad
Slow Cooker Lasagna Soup
Easiest One-Pot Pasta and Broccoli
Chicken Scaloppine with Broccoli and Melted Mozzarella