Book Review: Last Act by Christopher Pike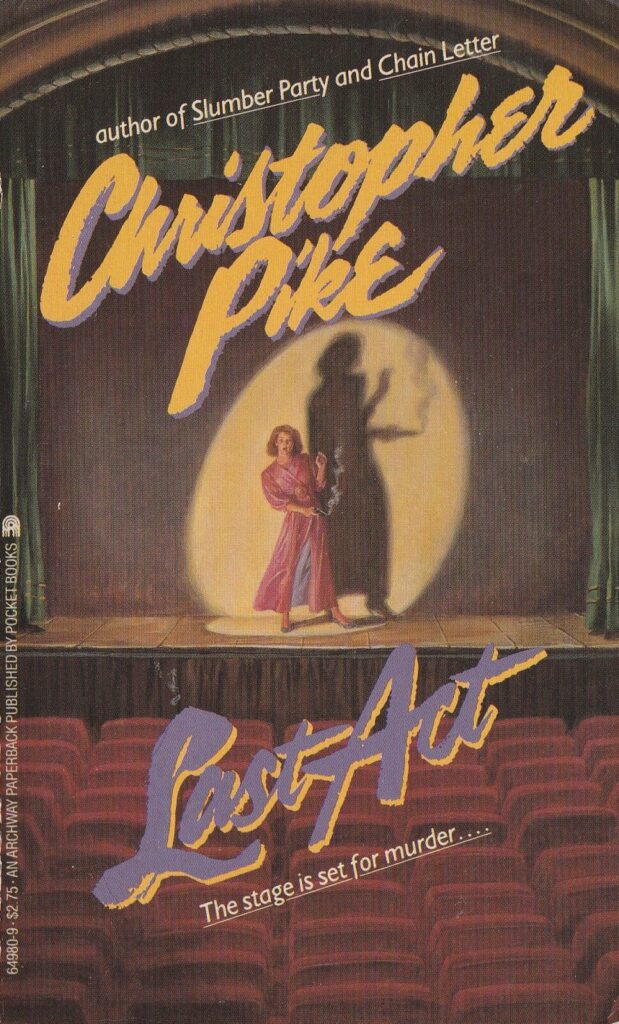 One of my most treasured possessions as a teen was my collection of well-worn paperbacks from the author Christopher Pike. I considered them my "comfort" books, or books I could read in one sitting and escape to a world of thrills, unknowns, suspense and supernatural occurrences. Sometime after college, I either lost that collection (20 or so books) in a move or donated it.
Christopher Pike was the pen name of a man named Kevin McFadden, and I recently came across this interview a fan girl turned adult writer such as myself conducted. If you were ever a reader of Christopher Pike's YA literature, this is a great deep dive into how the man became a pop culture icon in YA literature.
I came across a stack of old Christopher Pike novels several years ago at a library book sale and quickly snatched them up. I credit Pike and Lois Duncan for getting me interested in writing my own dark and spooky tales, so of course I want to showcase them on my shelves. One Pike book that was not at the library sale was the one I've always considered my favorite, Last Act. I mentioned it in an offhand way to my daughter not long ago and she found a used copy at a book shop online and surprised me with it for Christmas. I spent one entire day absorbed in the book and remembering how much I loved it in my teens.
Here's the synopsis:
It was only a high school play—until death walked on stage.
Melanie was the new girl in town, a little lonely, a little bored. Then she auditioned for the school play and won the starring role. Suddenly she had a whole gang of exciting friends. But these friends shared something that Melanie did not know, something from the past. Something so terrible that none of them would ever talk about it. Until after the play's opening night. When the police came for the body, and for Melanie . . .
As a girl who moved frequently with her parents from a young age, I could relate to the character of Melanie, who had moved to a midwestern town from California during her junior year of high school and felt a little out of place. When she notices the most popular girl in school, Susan Trels, having problems with a trigonometry quiz, she makes the quick decision to help her out. After chatting over lunch, Melanie realizes Susan is directing an upcoming play at the school and decides to audition, as she has previous acting experience at her old high school. It doesn't take much for Susan to convince her to try out, especially when she finds out the hottest boy in the school is playing one of the leads.
This plot appealed to me in high school because I also felt out of place most of the time, and found a fun network of friends in the drama department. There's never a shortage of dynamic personalities with actors, and this is especially true in Last Act. There's Rindy, the enigmatic and beautiful girl who once hit Melanie's car outside the school parking lot; Marc, the quiet but handsome former football player whom Melanie has been eyeing for months; Jeramie, the hyperactive and immensely talented actor who demonstrates the highest of highs and the lowest of lows in his personality, and various other supporting characters. Susan offhandedly mentions her boyfriend is "away," and Melanie notices the other actors tense up with a certain football player named Clyde's name is mentioned. The reader soon learns that the play, "Final Chance," features many parallels between the actors playing the parts and their personalities. The reader is presented with different portions of the play within the book. The storyline also features Melanie's character shooting Rindy's character with a gun filled with blanks.
As one can imagine, the shooting goes awry on opening night and Melanie finds herself in the middle of a murder investigation. Determined to prove her innocence, she has to dig into the complicated relationship between all the actors and uncovers a tangled web of secrets she never knew existed, along with a bloody blueprint for murder.
The book was as good as I remembered it, leaving me in tears at some parts and laughing at others. One of my favorite characters was the police detective working the murder case, as he often demonstrated a fatherly concern for Melanie while also trying to figure out if she had an ulterior motive for wanting Rindy dead. I found myself rooting for Melanie once again and hoping she could solve the mystery before her own life was in danger. The book also focuses on the popular YA themes of loving someone from a different "social" status than yourself, unrequited love, the depression that often hits creative individuals and the age-old "woman scorned" trope.
Rereading the book made me excited to get back to writing suspense/thriller, and I'm looking forward to revisiting the other CP novels on my bookshelf.