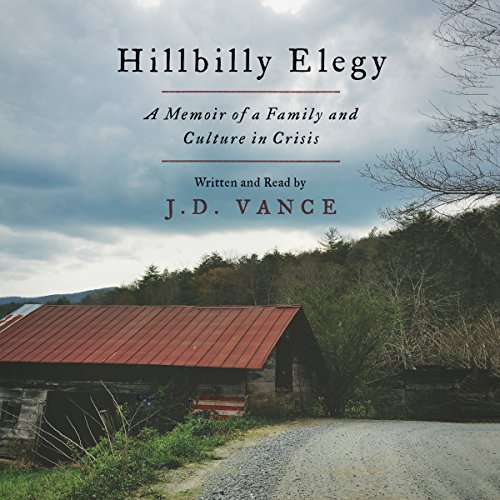 Book Review: Hillbilly Elegy by J.D. Vance
Synopsis:
From a former marine and Yale Law School graduate, a powerful account of growing up in a poor Rust Belt town that offers a broader, probing look at the struggles of America's white working class.
Hillbilly Elegy is a passionate and personal analysis of a culture in crisis – that of white working-class Americans. The decline of this group, a demographic of our country that has been slowly disintegrating over 40 years, has been reported on with growing frequency and alarm but has never before been written about as searingly from the inside. J. D. Vance tells the true story of what a social, regional, and class decline feels like when you were born with it hung around your neck.
The Vance family story begins hopefully in postwar America. J. D.'s grandparents were "dirt poor and in love" and moved north from Kentucky's Appalachia region to Ohio in the hopes of escaping the dreadful poverty around them. They raised a middle-class family, and eventually their grandchild (the author) would graduate from Yale Law School, a conventional marker of their success in achieving generational upward mobility.
But as the family saga of Hillbilly Elegy plays out, we learn that this is only the short, superficial version. Vance's grandparents, his aunt, his uncle, his sister, and most of all his mother struggled profoundly with the demands of their new middle-class life and were never able to fully escape the legacy of abuse, alcoholism, poverty, and trauma so characteristic of their part of America. Vance piercingly shows how he himself still carries around the demons of their chaotic family history.
A deeply moving memoir with its share of humor and vividly colorful figures, Hillbilly Elegy is the story of how upward mobility really feels. And it is an urgent and troubling meditation on the loss of the American dream for a large segment of this country.
Review:
I really, really wanted to like this book. I got excited just reading the nine-page introduction and remember excitedly telling my husband about it on the day I started the memoir. Coming from humble beginnings myself, I felt like I would be able to relate to Vance's story, although I grew up in rural Texas and North Carolina and not Kentucky/Ohio.
But really, the comparison ended there. Vance's memoir begins with the story of his origins (his grandparents) and follows a pretty linear timeline. It was hard to feel empathy for his mother, who dragged her two kids in and out of so many relationships that I almost lost count of the men in Vance's life. I believe she was married at least five times, and eventually became addicted to heroin. The figure he looked up to the most was his paternal grandmother, or "Mamaw," as he called her, but I have to say I took issue with her language and demeanor. I understand she grew up in the backwoods of Kentucky and was married and pregnant before she was even the legal age to drive a car, but her "colorful" language and roughneck behavior did not strike me as someone who should be a role model for any young child. I can't even repeat some of the things she said to family members and her grandchildren because I found them so offensive. This made it hard for me to read chapter after chapter of how wonderful "Mamaw" was and how his years living with her changed his life. (His grandparents never divorced but stopped living in the same residence by the time Vance was in his teens). I found myself wondering over and over what the point of the memoir is. The book has the subtitle "A Memoir of a Family and Culture in Crisis," and while Vance did discuss the mentality of many of the working class that reside in the area he grew up in (there's a sense of entitlement without the work ethic to back it up), I felt like he circled around the topic without giving any substance.
I do have a great deal of respect that Vance realized after being accepted to Ohio State University that he didn't have the maturity he needed to successfully complete college, thus leading to an enlistment in the Marine Corps first instead. He also completed college pretty quickly once he began his courses, then heading off to Yale Law School. But I found my mind drifting during the chapters where he attended Yale. He didn't seem to know why he wanted to attend law school, other than the fact that all the successful people he knew from his hometown were either doctors or lawyers, and he didn't like blood. I don't even think he is still a practicing lawyer, as the bio on the book jacket says he is now an investor in a venture capital firm. I read some other reviews before writing this one, trying to pinpoint why I found myself skimming the last chapter of the memoir by the end. I think one reviewer nailed it by saying she felt Vance's prose lacked the color and authenticity one would expect from someone who grew up in the Rust Belt, with childhood memories of Appalachia. Vance went through the motion of detailing his story, but he never plumbs into the depths of how running from his mother on a country road, in fear for his life, or having to pay for her extended stay at a motel after she relapsed into drugs again, really made him feel. What the reader gets is a memoir that reads more like a term paper. And while that may be okay for some, it leaves the reader wanting.