An Evening with John and Hank Green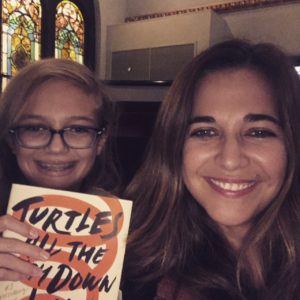 Because I like to write young adult fiction, I also read a lot of it, too. I'm not crazy about dystopian literature or fantasy titles and gravitate more toward contemporary topics. I think this is what drew me to novelist John Green several years ago. I started hearing people talk about how great The Fault in Our Stars was, and then I saw it had been optioned for a movie. It was then that I picked up the book and starting reading the tale of Hazel Grace (cancer patient) and Augustus (cancer survivor). I cried for hours after finishing it and loved the movie just as much.
From there I read Looking for Alaska, which I believe has been banned from some schools. If you're like me, if something is banned from a school, I definitely want to read it! From there I went on to An Abundance of Katherines, which was a great concept but I couldn't really get into it. Then I heard Paper Towns was being made into a movie with scenes shot in the city I live in, so I read it next. I knew Green had been busy for several years working on the development of two films, which was exciting. Every author's dream, right? But what I didn't know was that he was also suffering from a case of writer's block trying to produce his follow-up to The Fault in the Stars. I got to hear the backstory last night at the "Turtles All the Way Down with John and Hank Green" event last night here in Charlotte, N.C.
I feel fortunate that I even heard about the event. I happened to be scrolling through Facebook one day and saw Green post a tour schedule with the comment, "I've been told these events might sell out quickly." I clicked on the schedule, saw Charlotte on it, and immediately went to buy tickets. I was also shocked when I saw the ticket price of $21 included a signed copy of his new book, Turtles All the Way Down. Talk about a deal! (The event did indeed sell out quickly.) The tour includes John and his brother Hank, who I have to admit is very lovable. Together, they join forces to produce the popular YouTube channel, Vlogbrothers.
First of all, the venue was beautiful. The theater at Spirit Square was intimate, with red upholstered seats and stained glass windows surrounding us. There wasn't a bad seat in the house, which was good because our tickets were general admission. We chose a seat in the middle and had no problem seeing.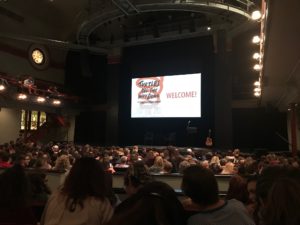 The evening started with us receiving swag tote bags that listed the 19 cities on this tour (I feel special), our signed copies of the book, a booklet with some letters from John Green, a bookmark, a cardboard poster of the tour, and some post-its.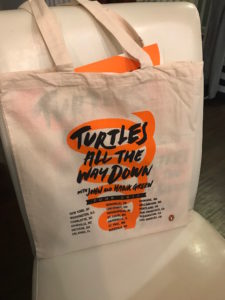 I brought my 14-year-old daughter along and as a self-proclaimed nerd, I'm pretty sure she had more fun than I did. John began the evening with a reading from the book, and then in a slightly shaky voice, discussed his lifelong battle with OCD. The main character in the novel has OCD so this book is very near and dear to his heart. Then we got a science lecture on Phylogenetics and Taxonomy from Dr. Lawrence Turtleman, a comical turn from Hank Green. The two brothers also took questions from the audience members (you could fill out a form on the way in) and Hank performed a few songs—my daughter's favorite was "The Universe was Weird."
The event lasted an hour and a half, and time flew by. I can hardly wait to dig into Green's new novel, which is already getting rave reviews from some of the major media outlets. Tonight, John and Hank are headed to Asheville to the UNC-Asheville, my old alma mater, and I'm sure they will be just as well received.
Hearing John's personal story, learning about the book, and joining the cause to fight against the stigma of mental illness also made me itching to get back in front of my computer to write.
Thank you, John and Hank, for a fun and inspired evening.