Book Review: Liesl and Po by Lauren Oliver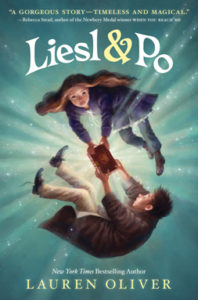 A few years ago I took my daughter to a literary festival called EpicFest in uptown Charlotte. This was yet another one of those events where I used my sweet, accommodating daughter as an excuse to go and hear one of my favorite children's authors speak.
Lauren Oliver has written many books I've enjoyed, as well as one adult novel that confused me a little bit so I'll probably need to read it again. I'm mostly drawn to her young-adult novels such as Panic, Vanishing Girls, Replica, Before I Fall (which was adapted into a film this past year), but I picked up a copy of her middle-grade novel, Liesl and Po,  for my daughter to get autographed at the festival. I was intrigued by the premise of the novel after hearing Oliver answer a Q&A at EpicFest. She said she was inspired to write the story after the death of one of her best friends. In fact, she said she wrote it mostly as a way to process her own feelings of loss—she wasn't actually sure the novel would be published. In the back of the book, she writes:
The idea for the book came from a fantasy I entertained during those months: I dreamed about unearthing my friend's ashes from the decorative wall in which they'd been interred and scattering them over the water, the only place he'd ever felt truly at peace.
Below is the synopsis of the novel:
Liesl lives in a tiny attic bedroom, locked away by her cruel stepmother. Her only friends are the shadows and the mice—until one night a ghost named Po appears from the darkness.
That same evening, an alchemist's apprentice named Will makes an innocent mistake that has tremendous consequences for Liesl and Po, and it draws the three of them together on an extraordinary journey.
Review:
One of the things that always impresses me about children's novels is how deep and profound they can be. Children are resilient beings, and I think sometimes we forget that. Liesl and Po tackles some tough subjects in the way that's reminisent of Charles Dickens, Roald Dahl or J.K. Rowling. After the death of her father (which readers soon learn was a murder) Liesl is trapped in a small attic room with only the barest scraps of food and drink (think items one might be served in a concentration camp) with only an androgynous ghost named Po to keep her company. She questions Po about what live is like "on the other side" and finally becomes motivated to escape her circumstances and take her father's ashes to the only place where he was happiest.
Will, the alchemist's apprentice, also lives a hardscrabble life, as he is an orphan who is verbally (and sometimes physically) abused by the alchemist. He is also forced to skulk around in the dead of night to fetch unimaginable items such as chicken's heads or a dead man's beard from a local mortuary. He's carrying a large box full of magic that is supposed to be delivered to a local wealthy woman, The Lady Premiere, who lives in a castle. When the box of magic gets mixed up with the ashes of Liesl's fathers, well, you can imagine that the two children get caught in quite a pickle.
The setting of this book is stark, and grey, much like the author viewed the world after the death of her friend. But slowly, through a tale of adventure and lovable characters such as Po, a ghost-animal named Bundle that could be a dog or cat, and a sweet but not-so-bright security guard named Mo (short for Molasses), the color gradually creeps back onto the pages, both literally and metaphorically. It also takes place in a setting and time period that could be anywhere and at anytime.
The back of the book says appropriate for ages 8-12, but I would probably recommend it more for ages 10 and older, because there is so much talk of death, "the other side" and description of a crematorium and the pretty scary character of the stepmother.