Book Review: Girl Wash Your Face by Rachel Hollis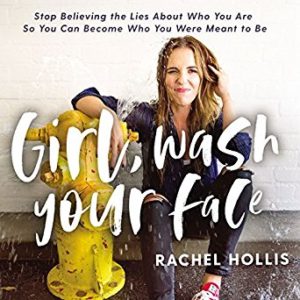 I can't remember exactly how I stumbled upon the powerhouse that is Rachel Hollis. It may have been on Jen Hatmaker's For the Love podcast. Lately, I've been finding so many interesting people on podcasts! Anyway, I was inspired by Rachel's story. She graduated early from high school, decided not to attend college, and instead headed to Los Angeles to conquer her dreams and marry Matt Damon! The last part didn't really work out but she did find a man of her dreams (David Hollis) and kicked off a successful career in event planning, wedding planning, and is now an entrepreneur, author, motivational speaker, and creator of Chic Media.
After following Rachel on social media, I kept hearing about her latest book, Girl, Wash Your Face. The title intrigued me. When I heard that it was a motivational book geared towards women I was also intrigued. I was going through a slump in my life at the time where I felt like I sucked as a writer, in my professional career in marketing, and generally in life.
So I picked up the book one day while in Target. And I'm glad I did. Rachel's writing voice is just like the voice you hear on her blog, Instagram feed, and in clips from her conferences and speaking engagements. She is authentic. She is blunt. She is encouraging. She made me feel like I am worthy of my dreams, and anyone else's opinion of me isn't my business. Wow.
The book basically follows 20 different lies she tells herself and why they aren't true. Most of these related to me (although instead of wanting to marry Matt Damon, I may have had my eye more on his buddy Ben Affleck). These lies include things like "I'll Start Tomorrow" or "I Am Defined by My Weight" or "I Need a Hero." I think I especially loved the chapter titled "I Need to Make Myself Smaller." It actually inspired this blog post over at WOW! Women on Writing.
When I got to the chapter on "I'm a Terrible Writer," these words struck me the most:
When you're creating something from your heart, you do it because you can't NOT do it. You produce it because you believe your creation deserves to be out in the world. . . But you can't MAKE people like or understand it.
I feel like this a lot. Sometimes I feel like people think I'm strange because I'm obsessed with true crime and missing persons cases. But that's where my passion lies, along with writing literature for teens. Since I read Girl, Wash Your Face, I have been so productive it's not even funny. I've written a new short story and submitted it to a contest. I dragged an old YA manuscript out and have been line editing it so I can start querying agents. I picked myself up after an abysmal critique from a freelance editor on a second YA manuscript and am trying to figure out to make the opening sing and not bore people. I'm seeking out opportunities in professional development to help me succeed in my day job in theatre marketing. I'm ON FIRE!
So if you need a good dose of motivation, I recommend you check out this book. It worked for me, and I'm passing it along to a friend I'm seeing tomorrow night. I hope she enjoys it as much as I did.